There are currently hundreds of metaverse enterprises offering various services, but one of the most fascinating concepts has been metaverse casinos. Metaverse gambling allows gamers to have a completely immersive virtual-casino experience without leaving the comfort of their own home.
This article will explain what metaverse casinos are and how they function. Continue reading to learn more about the greatest metaverse casinos, available games, and other information.
Metaverse Casinos: What Are they?
Metaverse casinos, as the name suggests, are casinos that exist in the metaverse. Forbes defines the metaverse as a collection of virtual or mixed-reality environments that gamers may visit via a browser or a headset. These platforms let gamers to communicate with one another by generating virtual avatars.
The notion of the metaverse has grown significantly in recent years, resulting in the establishment of metaverse casinos. This umbrella phrase refers to online casinos that are housed in virtual worlds.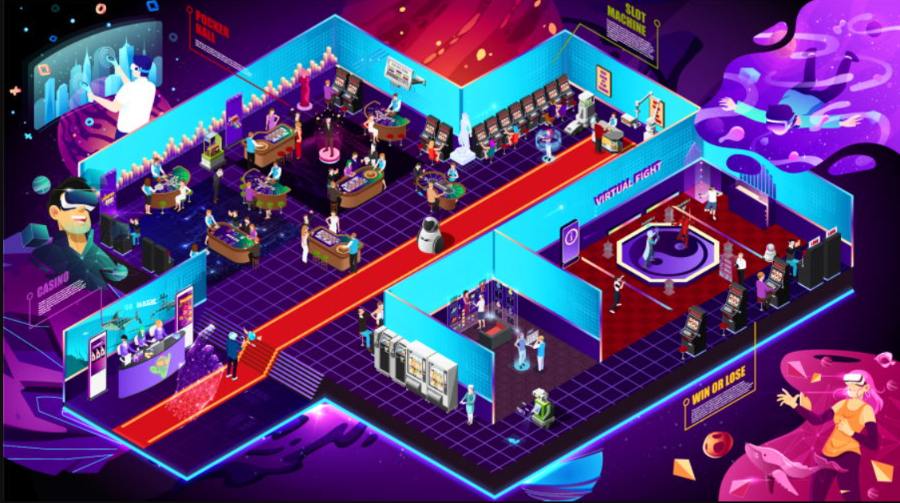 Decentraland's environment, for example, is tightly linked to the Decentraland casino, allowing gamers to play poker using 3D avatars.
It's worth noting that the notion of metaverse casinos is still in its early stages; hence the majority of the casinos on our list haven't achieved their ultimate form.
However, in the future, gambling in the metaverse casinos will likely allow players to roam around virtual copies of Las Vegas-style casinos, maybe using a virtual reality (VR) headset.
While metaverse casinos are still in their infancy, many of them provide intriguing metaverse gaming opportunities and welcome bonuses. Furthermore, some of these casinos employ their own native cryptocurrencies for wagers and prize distribution.
Metaverse casinos: What are the available games?
Many of our favorite casino games will stay unchanged in the Metaverse. Blackjack will be blackjack, and roulette will remain roulette with amazing features and free spins.
These games may have extra features, and the majority of them will most likely use a Metaverse token or crypto payment mechanism, but the core gameplay will stay the same.
How gambling in the metaverse possible
So, how does gambling in the metaverse work? In general, metaverse casinos are comparable to land-based casinos. They are distinct by the fact that they are handled in a virtual environment.
In general, metaverse casinos do not take regular fiat currencies. A participant in a metaverse casino must convert their real money into one of the metaverse's cryptocurrencies and deposit funds via a crypto wallet. However, in the real world, users swap the NFTs and cryptocurrencies they win in the metaverse for cash.
The usage of gambling on games with cryptocurrency in metaverse gaming offers certain obvious advantages. In addition to delivering a more immersive experience than fiat-based online gambling platforms, metaverse casinos provide consumers with additional levels of security, transparency, and privacy. On a blockchain, for example, the complete transaction history is available.
Although the transaction is viewable on a blockchain, people can stay anonymous by not disclosing specific personal information, safeguarding their privacy. Because there is no third party authenticating the transaction, deposits and withdrawals are done almost instantly.
What are the best metaverse casinos
Bloktopia
Bloktopia is currently constructing a 21-story tower that will house a range of virtual activities for people of different skill levels. They have positioned themselves as one of the metaverse casinos to learn about cryptocurrencies and the metaverse, from complete novices to those with extensive knowledge.
MetaHero
When it comes to the Metaverse, the new and expansive MetaHero platform offers much more than just gameplay. The need to digitally reproduce our own physical selves drove the creation of this platform.
MetaHero's cutting-edge augmented reality software solution can construct a digital version of you that looks and moves just like the real thing using 3-D scanning technology. Of course, if you want the casino floor to be genuinely unique, you may always create and upload your own avatar in the Metaverse.
Decentraland Casinos
Tominoya Casino, another enterprise that has entered the metaverse, is admitting players through its virtual doors. Host avatars of genuine firm workers assist players in navigating the numerous Roulette wheels and Blackjack tables, as well as instructing them how to place bets and spin the wheel! MANA and DAI are the leading crypto tokens at the moment.
Edgeless
Edgeless is the first blockchain-based gaming platform that was established on the Ethereum network. On this website, players may choose from a variety of games such as craps, poker, roulette, and others. One feature that distinguishes this casino is that players have complete access to the smart contract and reward history. EDG, the platform's native token, is widely used by its users to place bets.
How to pick the best metaverse casinos?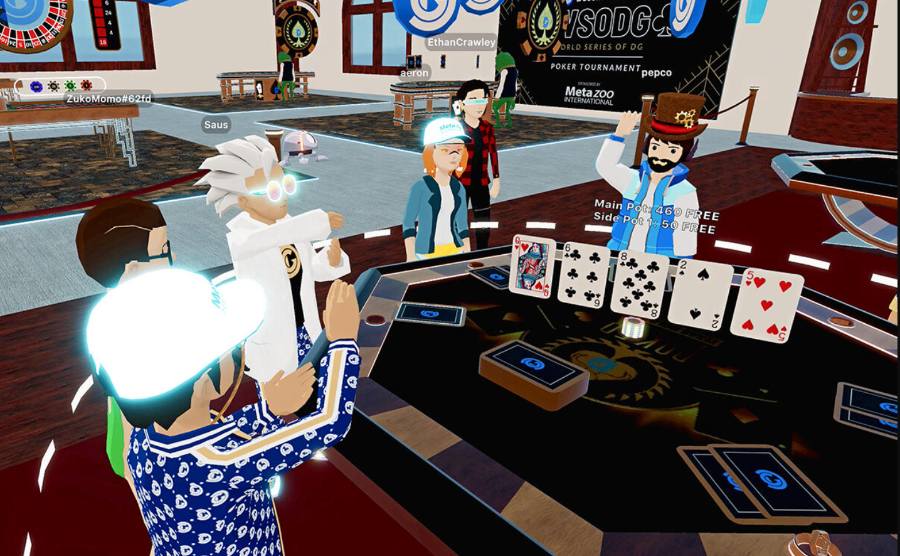 Here's a brief checklist to go through before entering a virtual reality casino. These guidelines will assist you in determining whether or not metaverse casinos are worth your money and time. Nobody wants to lose money by playing rigged games.
Licensing
Most popular decentralized casinos (which do not enable VR) are regulated by Curacao and other commissions that control land-based and online gambling businesses.
You must do a background check regardless of the sort of casino you choose. Casinos in the Metaverse must also get permission in order to operate. Curacao, for example, licenses casinos in Decentraland.
Withdrawals and payments
For the convenience of their players, online casinos provide a number of deposit and withdrawal methods. However, bitcoin is used to power Metaverse casinos. As a result, you will need a bitcoin wallet to deposit your funds (for example, a reputable wallet like MetaMask).
Your winnings will also be put into this wallet. As you might assume, Bitcoin transactions are instantaneous. As a consequence, your withdrawals and deposits will be handled as soon as possible.
However, depending on your platform, you must load up on the cash before converting it to cryptocurrency. For example, because the majority of the best Metaverse casinos are built on the Ethereum network, Ether is the most often utilized currency for gambling in the metaverse. However, several Metaverse casinos develop their own coins using the Ether network.
Security
You must be cautious at this stage since security for metaverse platforms differs from that of standard web platforms. People are typically seeking standard websites with SSL encryption, which safeguards users' data and other critical information on the page.
Metaverse casinos would largely utilize a crypto wallet to connect to the website; as a result, a hacker would not be able to obtain much information about you. Although metaverse casinos have shown to be safer than regular institutions, this is owing to due diligence. To begin, you must ensure that it is a safe website free of dangerous elements that might allow criminal actors to access your wallet and steal your winnings.
Game Variety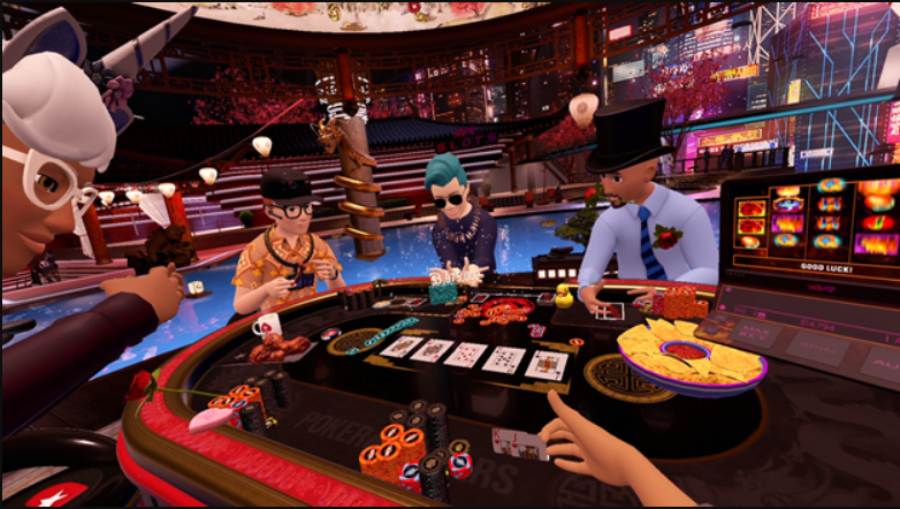 Of course, if you enjoy realistic slot games, you will select a casino with a large selection of slot machines. If poker is your thing, look for a casino that provides a variety of poker games. You may find conventional games like poker, blackjack, dice games, roulette, and more games in any casino in the Metaverse. They will, of course, have a selection of online slot real money titles.
FAQ
Is there a casino in the metaverse?
Yes, the metaverse has become a gaming utopia. Users may explore casino "districts" that provide slots, poker, roulette, blackjack, and other games, as well as attend events and nightclubs and even buy real estate, including a whole casino.
Can I play poker in the metaverse?
You certainly can play poker in the metaverse. Metaverse casinos leverage blockchain technology to assure fair and transparent gameplay and construct NFTs that allow players to access special poker tables and tournaments in order to make the thrill of poker in the metaverse available.
Can I make actual money in the metaverse casinos?
Players acquire bitcoin or NFTs as a result of playing metaverse casinos games. Following that, users may make money by getting cryptocurrency awards or selling in-game NFTs. Therefore, they can both be exchanged for fiat currency.
Conclusion
Metaverse casinos provide an interesting new method of playing online gambling games. Many of your favorite casino games are available in an immersive digital environment at these casinos, and you can even earn cryptocurrency simply by playing. To get started with the top metaverse casinos, you must first acquire bitcoin.